It was important to GameChanger to be able to allow Coaches and Scorekeepers the ability to not only score for both the Home and Away team with a single scorekeeper but also to allow each team the flexibility to score for themselves. As such, there are some very particular behaviors that a Head-to-Head Scorekeeper should understand and some limitations that they may have to take into account.
"First Team In" is scorekeeper for Both Teams in Head-to-Head Scoring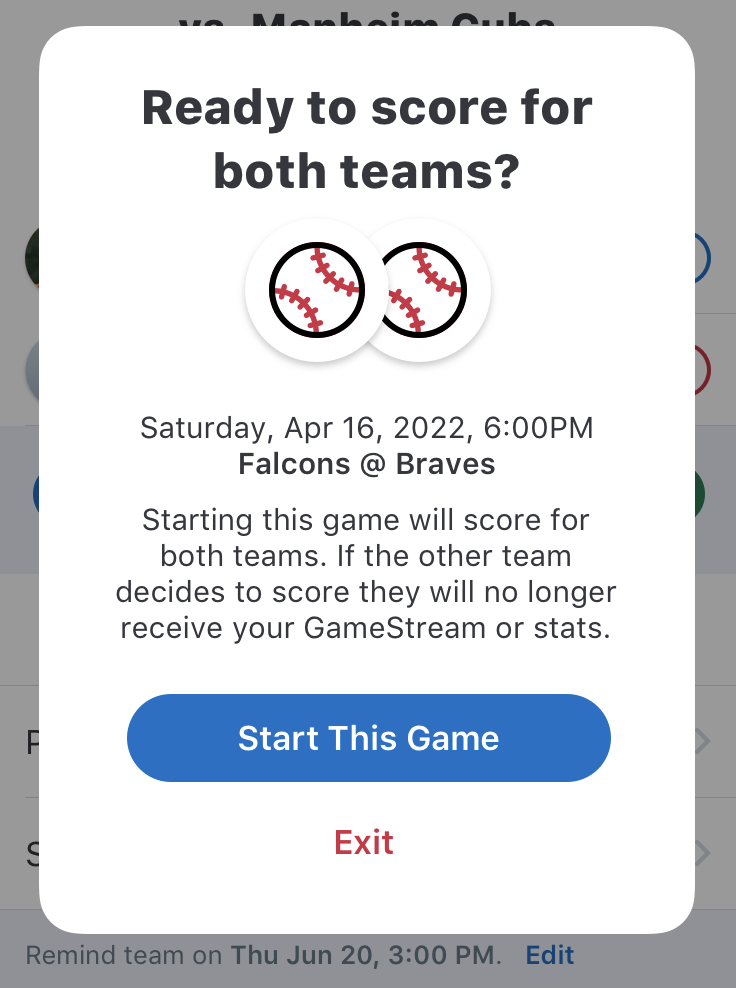 The most important facet to understand is that once that first scorekeeper enters into Scorekeeping mode and sees the Baseball/Softball diamond shown for the first time, the head-to-head scorekeeping has begun!
For many leagues this is the Home team that has the scorekeeping responsibilities (and that will be used as the example for the remainder of this article). So as long as the Away team has not entered into Scorekeeping mode yet the Home team will be the primary gamestream and will be duplicating its game play-by-play events to the Away Team automatically.
"Second Team" splits the Head-to-Head scoring into two single streams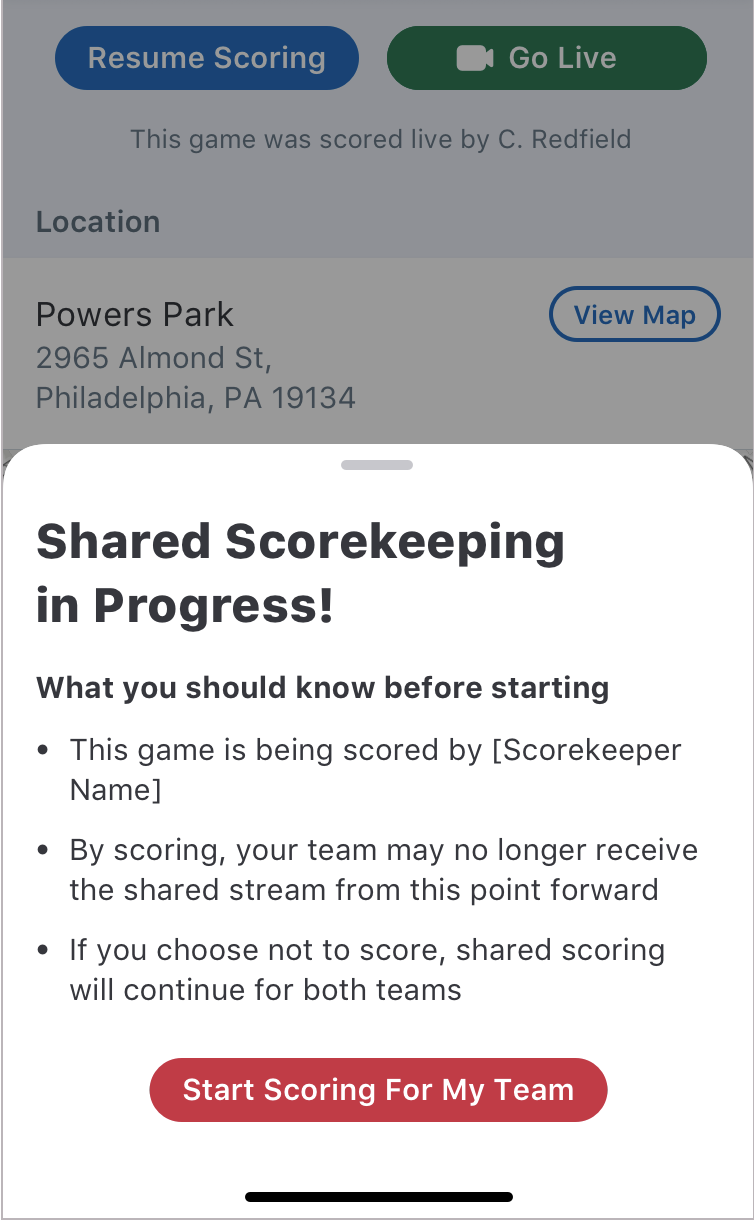 Almost as important in the above example is that once the Away team decides to enters into Scorekeeping mode that will stop the duplication of the play-by-play events from the Home team to the Away team's GameStream.
If it has been decided that the Home Team can no longer keep score for both teams, as soon as the Away team enters into Scorekeeping mode both teams will then be responsible to score for themselves.
Starting Lineups not yet considered in Head-to-Head Scoring
The Head-to-Head games have the ability to score for any player on any team in the organization through a shared player pool within the organization. As such, once the scoring of a head-to-head game has begun it is fairly simple to find the appropriate players for both teams and add them to the starting lineups for those teams within scorekeeping mode. The scorekeeper may also add players to the organization's player pool and those players will be available to all other teams in the organization automatically when they play against that team in the future.
IMPORTANT: The reason why this is important is that if you enter into the Scorekeeping mode to Set Starting Lineup or to designate your Opponent's Starting Lineup, as mentioned above that will start the head-to-head scoring automatically as soon as you enter into Scorekeeping mode.
There are plans to support Starting Lineups in the future for Head-to-Head games, but for the time being we recommend scorekeepers avoid using this feature in H2H games within the organization.
Related Content
For more information on Organizations and Head-to-Head Scheduling and H2H Scoring, please visit the Product Blog on GC.com.